S3|10 106 (Learning Center)

Public room, 18 workstations, printer/copier

S3|06 063

Only for booked courses, 14 workstations, printer/copier, beamer

S3|06 069

Only for booked courses, 14 workstations, printer/copier, beamer

S3|21 1

Only for booked courses, 27 workstations, beamer
Notice:
For the PC-Pool-Account you need a valid e-mail account at the HRZ. Set up your TU mail account first before you apply for a PC pool account!
Enrolled students in Department 18 or in the WI-etit program may request a user account for the department's PC pools:
1. complete the online form.
2. print the form and sign it.
3. As long as the letterbox next to room 112 in building S3|10 in Landgraf-Georg-Straße 4 has not yet been installed, hand in the signed form together with a copy of your student ID (with matriculation number) to Mr Göckel in room 113 in building S3|10 or slide the application under the door. During the semester break, we will update the server so that the error with the expired certificate will be fixed.
Translated with www.DeepL.com/Translator (free version)
4. renew the account in time before the end of the semester.
Online form
Students from other departments will only receive a user account for the FB 18 pool if they
participate in a course of one of the subject areas of FB 18
are writing a study, diploma, bachelor or master thesis in one of the departments of FB 18
are working as a student assistant in one of the departments of FB18
To do this, please read the instructions for students in another degree program beforehand and then follow the steps below:
1. discuss your request with a member of the supervising department before submitting the request. This person must confirm the information you have provided. If no staff member is willing to do so, your request will be rejected.
2. complete the online form.
3. print the form and sign it.
4. drop the signed form together with a copy of your student ID (with matriculation number) into the mailbox next to room 30 in building S3|06 Electrical Engineering and Information Technology (Hans Busch Institute), Merckstraße 25.
You will then receive the access data directly from your lecturer or supervisor.
Employees at Department 18 can request a user account for the department's PC pools:
1. complete the online form.
2. print the form, sign it and stamp it with the institute stamp.
3. send the signed and stamped form via interoffice mail to:
Pool Administrator FB 18, Merckstraße 25, 64283 Darmstadt, Germany.
Please also take the time to read the instructions for scientific staff regarding the PC pool.
Notice:
If you want to extend an existing user account, increase your quota or order software from one of our license programs, log in to the system.
1. the PC pools serve educational purposes (courses and self-study) and are not intended for private use. The PC pools are located in rooms S3|06 063, S3|06 069 and S3|10 106 and S3|21 1.
2. A personal user ID is required to use a computer in the PC pool. In principle, only students and employees of Department 18 are entitled to apply for a user ID. If it is necessary for teaching (e.g. internships) or research (e.g. Hiwis), registered employees may exceptionally register students of other departments. This user ID is for personal use only and may not be made available to a third person. The registration for this is done online.
3. Attention: accounts banned due to violations will be irrevocably deleted after 3 months if the owner does not request reactivation. Reactivation will take place no more than twice – with a simultaneous warning. After the 3rd violation, the user ID will be permanently deleted. If your account is suspended due to exceeded quota and you receive a warning, you have one week to fulfill/underrun the quota, otherwise you will receive another warning.
4. Current information such as opening hours or occupancy schedules are posted in front of the PC pool rooms.
5. Courses have priority over individual use. During the course, the pool is blocked for non-participants. Individual use of free computers during this time is not possible.
6. the tolerated work on the computers does not include:
any modification of the hardware and the installed software, especially the installation and use of file sharing programs.
any form of access to other people's accounts (use of password crack programs, use of other people's user IDs, self-created network connections, etc.)
viewing, saving or distributing data of pornographic, racist, copyright infringing or terrorist content.
any activity that damages the reputation of the university or its members.
the use of gaming software.
7. No private or confidential data may be stored or processed on the computers of the PC-Pool. The administrators are therefore authorized to view the data on all data carriers locally and on the network if there is a suspicion of improper use of the PC pool.
8. Each session must be terminated by logging out of the system ('logout') to prevent third-party use of one's own user ID. Simply switching off the computers or pressing reset are not allowed.
The workplace must be left clean.
9. Bringing or consuming food and beverages as well as smoking in the PC pool room is not permitted. The furnishings and furniture of the PC pool are to be treated with care. Paper waste and other garbage are to be disposed of in the respective containers provided.
10. It is in the interest of every user to immediately inform the PC-Pool responsible of any damages and defects that have occurred (see notice board or e-mail to it@etit.tu-…).
11. Employees of the pool administration are authorized to give instructions in the pool rooms. Their instructions must be complied with. Upon request, the user must prove his or her authorization to use the pool by showing a valid personal or student ID (with matriculation number).
12. The pool rooms may be entered only by authorized users. These user rules are recognized by entering a pool room.
13. Liability of the operator / exclusion of liability
The operator does not guarantee that all system functions meet the requirements of the users and that all systems run without errors.
Furthermore, it cannot be guaranteed that the data available to it will remain intact and confidential (with regard to destruction, manipulation). The operator is not liable for lost or left objects of the users, as well as damages of any kind, which arise to the user from the use of the PC pool resources.
Printing is possible from any workstation in the PC pool. When you log in, the system is already set up as the default printer.
When scanning, you can simply place the files in the home directory of your pool accounts.
Copying is even possible without your own account.
Please read the user manual before using the devices.
Effective immediately, public copying and printing systems are available to all students in PC pools S3|06 063 and S3|10 106.
Copies/ printouts:
A4 (black and white): 0,03€
A4 (color): 0,15€
Payment is made directly at the copying system with the Athene Card loaded with a sufficient amount of money.
Visit us during our consultation hours. Don't forget your Student-ID card.
Consultation Hours : Tuesday 2:00-3:30pm + Thursday 2:00-3:30pm in S3|06 Room 307
In order to change your password follow this link and log in with your Dept. 18 PC-Pool account.
NOTE: Password changes will be effective immediately on the website. At PC-pool workstations, password changes will be effective the next day.
No. Your account will be extended automatically as long as you are a student at Department 18 or WI-etit. There may be a few exceptions. If you feel your account should be extended and it is not, please see the administrators.
Please apply for a new account via Online Account Management. Your account will automatically be extended as long as you're a student at Department 18 or WI-etit.
ATTENTION: After completing the form it is necessary to print out the application form. It is important to click the "Print&Send" button!
The account is valid for the current and the coming semester. It will be automatically extended, as long as you're a student at Department 18 or WI-etit..
ATTENTION: Accounts that have been locked due to user violations will be terminated after three months, if the user hasn't applied for reactivation.
Three years after expiriation of your account. All user data will be lost.
Possible cause: You have tried to log in with the wrong password for five times.
Solution: After approx. 5 minutes your account will automatically be unlocked again.
If something else caused the lockdown of your account or extension of your account was not successful, please contact the administrators during consultation hours or send an email.
The Disk-Quota on home drive Z: is limited to 100 MB and must not be exceeded. BTW: You'll be able to log off properly if your windows profile (C:\Userstorage\<your login name>) is not exceeding the limit of 30 MB.
You have exceeded or are about to exceed your quota. Saving data on your home drive won't be possible until you delete unnecessary files.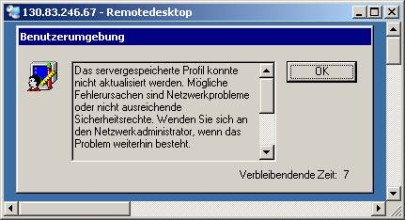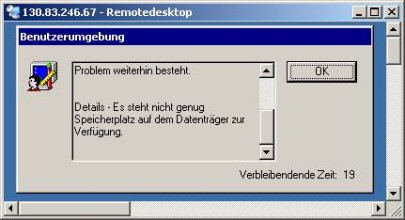 In most cases, deleting the file "parent.lock", located in the profile directory of the browser, makes Firefox start again.
(C:\Userstorage\<YourLogin>\Anwendungsdaten\Mozilla\Firefox\Profiles\<YourProfile>\parent.lock)

A user profile is a set of files and folders that stores a user's personal settings. (e.g.: Shortcuts on your desktop, user settings that are saved for a specific program)
No. Installing software of any kind, using port scanners or file sharing tools, as well as downloading copyright infringing material will result in a warning. Three warnings will lead to the irreversible termination of your account.
Note: Without a PC-Pool account, you may not participate in courses held at PC-Pool rooms.
As of 31/08/2016, the Microsoft Dreamspark Premium subscription has expired and won't be renewed. Therefore, students and employees cannot acquire any Microsoft licenses via this agreement anymore. Previously installed products can still be used.
Notebooks and tablets may not be connected to the PC-Pool network. However, the HRZ offers free WiFi access.
Yes. Public printers and copiers are available for every student in the PC-Pool rooms S3|06 063 and S3|10 106.
No. There is no way to do this.