"Don't ask, do!"
Graduation ceremony etit in the winter semester 2022/23
2023/02/14 by Benedikt Schöberl / sas
On Friday, February 10, 2023, the graduates of the Department of Electrical Engineering and Information Technology were given a ceremonial send-off. After graduation, they are now tackling their master's degree, are on their way to their doctorate or directly into business.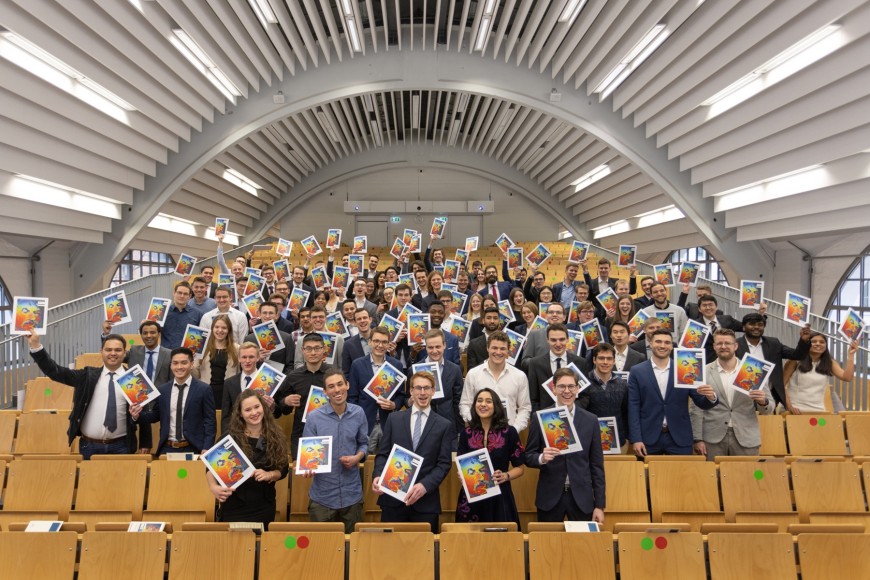 The day of the graduation ceremony started punctually at 2:00 p.m. with a musical prelude by the duo E-Cord. With opening words by the Dean of the Faculty, Professor Florian Steinke, and the subsequent welcome by Professor Thomas Walther, who as the new Vice President for Innovation and International Affairs represented the Presidential Board of the TU Darmstadt, the event began in front of a packed hall in the Maschinenhaus.
This was followed by the keynote speech by the Dean of the Faculty, in which he looked ahead. The freshly graduated engineers can expect the best opportunities for the future – just like social responsibility. His final wish for the graduates: to remain authentic and themselves in the new phase of their lives.
In his speech, alumnus Dr. Marco Münchhof, now a member of the Executive Board of Eckelmann AG, encouraged the graduates to try things out in their professional lives. This is the only way to find out whether something really suits you. He passed on the best advice he ever received to the young engineers: "Don't ask, do!
This time, the Best Student Awards presented by Eckelmann AG were given to three Bachelor graduates whose degrees were considered to be of equal value: David Scheunert, Dominik Zacharias and Marcel Rath. Erik Kubaczka received the award for the best Master's degree. The latter was unfortunately ill at short notice, but sent a video message to the hall with a review of his studies and his vote of thanks.
The Friedrich Dessauer Prize, awarded by VDE Rhein-Main e.V. for outstanding theses, went to Lukas Wehrstein for his bachelor thesis on "Modular Energy Aware Simulation Environment for Wireless Sensor Network Evaluation" and Simon Tien for his master thesis on "Development of High Dimensional Learning Methods for Genome wide Association Studies".
The traditional highlight of the event was again the awarding of the graduation documents, during which the dean personally congratulated all graduates present. In total, 73 Bachelor's students and 104 Master's students had successfully completed their studies this semester, eight of them in an international program and two as double-degree with one of etit's international partner universities. Remarkable: 40 graduations were in the range of very good.
At the final get-together with a champagne reception, everyone took the opportunity to talk about their time at the TU Darmstadt and their plans for the future.