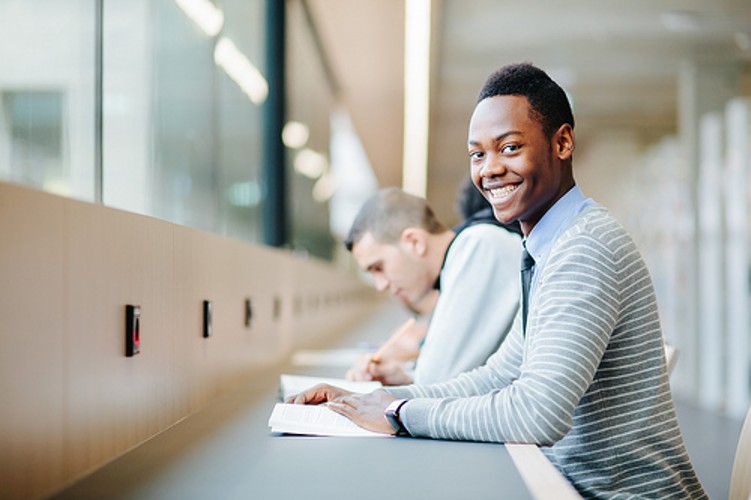 Specific FAQs:
This section contains special FAQs for students of the master course "Information and Communication Engineering".
Why iCE Master? Why TU Darmstadt?
The iCE Master programme is a programme of excellence founded in 2001, supported and endorsed by the DAAD. It graduated dozens of engineers who followed international careers in companies, universities and research centers all over the world. The programme is offered by the Department of Electrical Engineering and Information Technology of Technische Universität Darmstadt, which is ranked among the top 3 in Germany by many publications such as Stern and WirtschaftsWoche.
What causes the high quality of the programme?
The iCE Master curriculum is multi-disciplinary and research-oriented. It is based on the convergence between electronics, computer engineering and communication engineering, aiming to graduate engineers that can bridge the gap between conceptual design and implementation reported by the communication systems industry. Thus, the curriculum requires from the students a solid basis on the fundamentals of electronics, communications and computer engineering. The application procedure and the online assessment test were designed to ensure that all students present such basis. It may require a little more effort from your side, but once you go through it you can enjoy the benefits of attending classes and labs with other students that, just like you, are well-prepared and motivated to succeed in their studies.
Is the quality of the International Master Programme as good as its German Programme counterpart ?
Yes. The professors, facilities, lecture contents, etc. offered by the International Master Programme are the same as those offered in the regular German language programme, so you can expect the same level of quality.
Is there an accreditation process for the Master programmes in Germany? If so, is the iCE Master already going through this process?
Yes, there is. The responsible organization is the German Accreditation Council (Akkreditierungsrat – www.akkreditierungsrat.de), and the process is executed by several area-specific agencies. For engineering and informatics programmes, the agency is the ZEvA (Zentrale Evaluations- und Akkreditierungsagentur- www.zeva.org).
Each study programme is evaluated by the respective agency within the first years of activity, and re-evaluated periodically after that. The study programmes are expected to present data about its curricular structure, faculty and research staff, infrastructure, target audience, etc.
Because of its high level of quality and organization, the iCE International Master Programme was already analyzed and evaluated – the ZEvA committee visited our university – and the accreditation was granted.
Are there any fees for the iCE Master?
Yes. Students must pay a fee per semester to the university. This allows for lower prices in the university restaurant and a free regional ticket for public transportation during the semester.
Is the programme starting also in the Summer Semester?
No. We offer only one admission per year, starting in September.
When is the deadline for applications?
Application can be done between 1st of June and 31st of August. We strongly recommend you to register at Technische Universität Darmstadt website and online assessment test early. Approved candidates must submit application documents to the International Admission Office, in order to be considered for enrollment in upcoming September.
I have a X degree from Y university. Am I eligible to join the programme?
If you have a degree in a field related to Information and Communication Engineering, you may be eligible to the programme, but this can be confirmed only after the analysis of your application material by the Selection Committee. We recommend you to apply only if you had good foundation in most of the following topics during your studies: mathematics, physics, statistics, semiconductor theory, electronics, electromagnetism, computer organization, software systems and data communications. Check our Requirements page for further information.
I am not yet graduated. Can I apply?
Yes. Submit the documents that you already have and hand in the certificates of graduation later on.
Can I apply for a scholarship/funding/financial support?
There are payed research assistantships available at many of the iCE host institutes (e.g. IES, ES, KOM) but they are only available to students in a higher semester (first semester students are not eligible). Thus, first semester students are expected to support themselves either through personal funds or scholarships.
Is it necessary to have German language skills?
No. You only need to be proficient in English to apply. All mandatory lectures and many optional lectures, labs and seminars are in English. However, lectures and seminars in some particular topics are offered in German language only. To make possible to all students to take advantage of the whole range of offerings, the programme includes a mandatory German course for those without good German skills. This German course is offered free of charge to all iCE Master Programme students and is organized by the Language Center of the Technische Universität Darmstadt.
Is TOEFL really necessary? Can I provide other proficiency certificates?
It is a decision of the International Admission Office to require an English proficiency certificate from all applicants who are not English native speakers. Students, who have already done their Bachelor degree in English, need not to prepare an English proficiency certificate. We do prefer TOEFL certification, but you can submit your application with other equivalent, well known English proficiency certificates (IELTS, Cambridge). However, keep in mind that in that case the Selection Committee may ask you for further documents, or even ask for an interview before accepting your application.
Where can I get certified copies of my documents?
The International Admission Office (IAO) has detailed information about this issue in their website: https://www.tu-darmstadt.de/international/home/index.en.jsp
I was issued an admission letter, but i cannot start this year because of X or Y reasons. Can my admission be deffered to next year?
Contact the person at the International Admission Office who issued you the admission letter and explain why you want your admission to be deffered. If your reasons are tangible, he or she will issue you a new admission letter for next year.
I am a foreign student and my request for a student visa was denied. Can you help me?
Unfortunately we can't do anything regarding this matter.
I am a foreign student and I already got my student visa. When should I go to Germany?
The technical courses usually begin in the second half of October. However, all iCE students without German language proficiency are expected to arrive in September for the German language intensive course (6 weeks, starting in the first working day of September).
In the first days after your arrival, you should contact the International Admission Office in order to proceed with your registration.
How do I get there?
If you are coming by plane, the best way is through Frankfurt Airport. You can take the Airliner to Darmstadt Hauptbahnhof. This is a direct bus from the airport to Darmstadt city center.
When exactly are the classes starting?
The German language classes, which are mandatory for all the students without German proficiency, start in the first working day of September. The technical lectures start in the third week of October.
My admission letter states that I need to have health insurance. How can I get it?
We recommend you to get your health insurance here in Germany, because you can take advantage on special student fees. After your arrival, you can go to any insurance company and ask for it. You should show them your admission letter in order to get the reduced fees for students. It will cost you then about 80Euro per month.
For further information, you can check the Unilife website (www.unilife.de – for the information in English, click in the option "Insurance guide").
Can you provide me some information about housing in Darmstadt?
You can search by yourself for apartments offered by private owners in online advertisement newpapers such as Sperrmuell (http://sperrmuell.quoka.de/). If you decide to search for an apartment after your arrival, a good option for the first days is the Darmstadt Youth Hostel, which is located circa. 100 m from the university. The German Youth Hostel Association website is http://www.djh.de/.
You will be assisted by our mentorson finding a private-owned apartments. About the price ranges, here you can find some basis:
Apartment Location Monthly rental Furnished
1 room, sharing bathroom 30 minutes from TU 180 Euro
1 room&kitchen, bathroom 5 minutes from TU 350 Euro
2 rooms, kitchen, bathroom 5 minutes from TU 450 Euro
How will my examination marks be given? What is the minimum mark to be approved?
In Germany, the marks are given from a discrete set between 1 and 5. The highest mark is 1 and the lowest is 5. To be approved, you must obtain at least 4.
The meaning of each mark is as follows:
1 – sehr gut (very good)
2 – gut (good)
3 – befriedigend (satisfactory)
4 – ausreichend (sufficient)
5 – ungenügend (insufficient, failed)
What is the best strategy to be approved?
It depends. Every individual has its own preferences. Anyway, the following points should always be remembered:
attend to the lectures, exercises, labs
review the lectures at home
the scientific staff of the university (Professors, Assistant lecturers, Researchers) usually dedicate some hours per week to attend students – check on their web pages
use the libraries
rely on the iCE Master coordinator (masteroffice(at)etit.tu-darmstadt.de) or the faculty Servicezentrum (servicezentrum@etit.tu-darmstadt.de) for help
I need a certificate with my marks/results. Where can I get it?
If you need a certificate on your results, ask for it at the examination office.
Can I work during my studies?
If you are foreigner living in Germany with a student visa, you may work full time without a work permit for a maximum of three months or 180 half-days per year during semester breaks ("Employment promotion law" § 19) without a work permit. But keep in mind that some of the examinations, projects and your internship will probably take place during the semester break.
Where can I get financial support at the end of my study?
One possibility especially at the end of the study you find here.
What is the iCE Master Programme situation within the Technische Universität Darmstadt organization?
The Technische Universität Darmstadt is divided in several faculties/departments (Fachbereiche). The iCE International Master Programme is one of the study programmes offered by the Faculty of Electrical Engineering and Information Technology (FB18 – Fachbereich Elektrotechnik und Informationstechnik).
Where can I do my internship? How long should it be? What will I be doing?
The internship is a period of at least twelve weeks where you will have the opportunity to put into practice some of the knowledge you obtained during your master studies. It can take place in the industry or in one of the research labs of the university (either TU Darmstadt or one of the partner universities). You can expect to learn some of the every day tasks an engineer undertakes, such as using CAD tools, measurement instruments, prototyping platforms, etc. You will also exercise some of your team work skills, because your work would likely be a part of a larger project involving other researchers and engineers.
At the end of your internship, you must provide a report on your tasks which will be evaluated by the ServiceZentrum.
The recommended period for the internship is the semester break between the 3rd and 4th semesters. At that point, you will be finished with all the lectures and will be able to focus completely on the internship. Furthermore, you can also take advantage on the internship and use it as an opportunity to learn the basics for your master thesis. For instance, you can do an internship in a lab or company that use the CAD tools or measurement instruments you intend to use during your master thesis, so that you start working on the thesis you are already proficient on the respective tool or instrument.