etit-Student veröffentlicht in Nature
Weiterer Beitrag des Fachgebiets unter den drei meistgelesenen Artikeln in IEEE-Journal
2022/01/30 von Konstantin Pleil
Schon während des Studiums die Zukunft mitgestalten: Alonso Ingar Romero erforschte im Rahmen seiner Bachelor-Arbeit sowie der daran anschließenden studentischen Mitarbeit am Fachgebiet von Professor Sascha Preu neuartige Verfahren von Bildgebungsmethoden für Terahertz-Wellen. Die Ergebnisse wurden nun in Nature Communications veröffentlicht.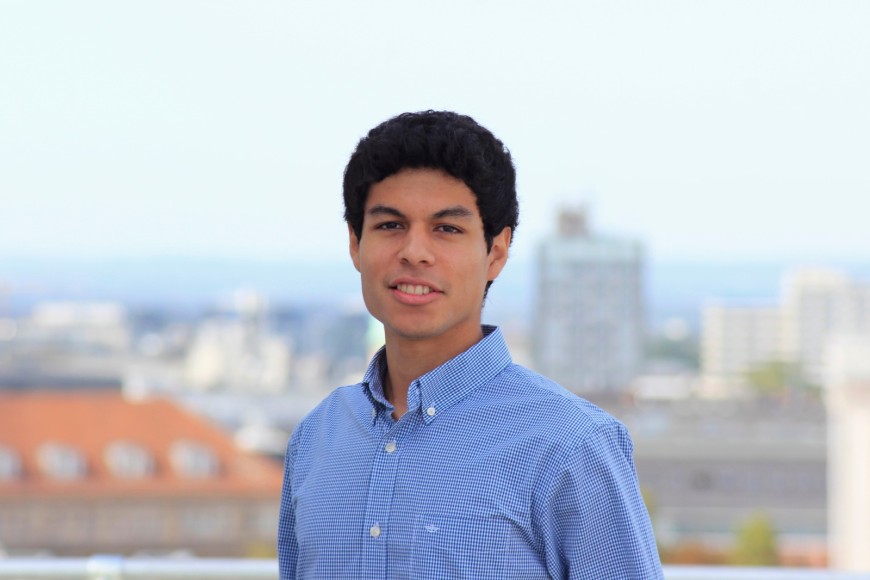 Terahertz-Wellen befinden sich im Wellenlängenbereich zwischen Hochfrequenztechnik und Optik. Früher wurden sie auch als Ferninfrarotstrahlung bezeichnet. Ziel von Alonso Ingar Romero war, mit Hilfe dieser Wellen ein Höhenprofil möglichst akkurat zu bestimmen. Dazu verwendete er sternförmige Testobjekte, die zuvor aus Silizium geätzt bzw. lithographisch aufgebracht wurden, sogenannte Siemens-Sterne.
Zusammen mit Mitarbeitern des Fachgebiets konnte er zeigen, dass auch Strukturen, die 10.000 mal kleiner als die Wellenlänge selbst sind, noch nachgewiesen werden können. Die Ergebnisse aus dem Bereich der Bildgebung mit Terahertz-Wellen wurden in dem Beitrag mit dem Titel "Visualizing nanometric structures with sub-millimeter waves" zusammengefasst.
Einsetzbar, wo Licht- und Röntgenstrahlung nicht wirklich helfen
Praktische Anwendung findet das Ganze beispielsweise in der Schichtdickenmessung zur Qualitätssicherung oder störungsfreien Prüfung von Autolackierungen, Kunststoffen oder Schäumen. Auch zur
Prüfung der Integrität des Hitzeschilds der Space Shuttles wurden Terahertz-Wellen bereits eingesetzt. Denn Terahertz-Wellen können viele Substanzen durchdringen, die optisch intransparent sind und auch für Röntgenstrahlung keinen nennenswerten Kontrast bieten.
Die Wellen sind zudem absolut harmlos, zumindest bei den in Labor verfügbaren Leistungen. Sie sind Bestandteil des Infrarotspektrums und werden von jedem Menschen permanent abgestrahlt und aufgenommen.
Ein weiterer Beitrag des Fachgebiets mit dem Titel "A Fully Optoelectronic Continuous-Wave 2-Port Vector Network Analyzer Operating From 0.1 THz To 1 THz" war einer der drei meistgelesenen Artikel auf der Homepage des IEEE Journal of Microwaves und wurde als besonderes lesenswert hervorgehoben.
Wir gratulieren zu den Veröffentlichungen und der positiven Resonanz!